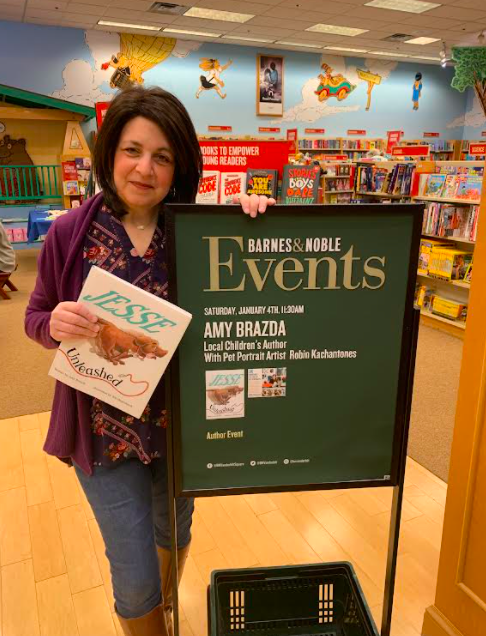 Meet Amy!
Amy is a certified teacher in the grand state of Texas. She graduated from the University of Texas in Austin, and she immediately got certified to begin teaching in public schools. She's taught all subjects throughout 4th grade and became the lead Language Arts teacher. Bringing creativity and fun into her classrooms is something she is very familiar with.
We had the opportunity to catch up with Amy while she described how she works with her students and sets them up for success and confidence in life.
Join the conversation below:
Hi Amy, it's great to sit down with you! Can you tell us a little bit about yourself?
A fun fact about myself is that I am a published children's author. 3 years ago, it was my dream. I would write and write in journals. I would enter story contests and win, then from those stories I would try to transcribe them and put them into even bigger stories. 4 years ago when I got my dog, he inspired me to write a book. So in 2018 my book was published and it even won a national award. It was so much fun! I really wrote it for the kids. I travel to schools and motivate the kids to write through my book.
The sole reason for me being a teacher is to motivate the kids and make a difference. I've taught kids from all types of backgrounds, some in low income families and some in private schools. Every kid needs something or someone. They are in school for 8 to 9 hours a day depending on extracurricular activities and we are the people that they see. So I really want to make a difference in these kid's lives and be their role model.
What is your favorite thing about the Sunshine Method?
I love the Sunshine Method! I knew from reading about it and my initial interview that this was for me. I grew up in a family where my parents, who have since passed away, really instilled in me and my siblings the desire to give back. And I think that is what the Sunshine Method's mantra is. It's not just for teachers, you can be in law school and still want to give back to kids that really need it. Through my kids I tutor, it is clear to me that this is something I am supposed to be doing.
How does the work you are doing with the Sunshine Method connect to your own personal values?
To really give back. Since I was little, my parents would always take us to volunteer and donate items like clothes to people who needed it. It was ingrained in me and I also did this with my kids. They were really into tennis so we would volunteer at the National Junior Tennis League in our city. It's free tennis for underprivileged kids. Due to me being a single mom, my kids would also play there. We learned so much. I would sit on the sidelines and read to the kids. It's so important to give back. Not even in a financial way but simply by being kind and giving of yourself and time.
What's the most memorable session you've had with a child?
That's hard. Every child is wonderful. 2 in particular though. One girl in a private school whose dad travels a lot for work. I just think the attention that I give her and the way we connect is special. She's understanding. We worked on division and for some of that stuff I am just old school. DMSB - divide, multiply, subtract and bring down. I taught her the acronym and then in 2 seconds she got it! We were solving problems after problems. On a more everyday basis, I see my kids improving. Most of them are not at their grade level yet so I set small goals for them. If they make a little bit of an improvement that is great!
What kind of long term progress have you seen your children make?
For the kids I first started with, they really have made improvements in all areas. I mostly think they enjoy class, they'll say things like "my teacher never does these crazy things." One of the moms of a student of mine said every Monday, Wednesday, and Friday when she picks her up in the carpool lane, her child always says that she gets to have tutoring with Ms. Amy today. So things like that make me happy. Not because they're going from one grade to the next but because they're excited to learn.
How has education changed your life?
Education has totally changed my life. I went to public school where I met friends that I am still friends with. It allowed me to do and see so many things. My kids went to both private and public school and both of them were great. In public school, they made friends with people they're still close with. In private school, they also experienced some great opportunities. They went on to attend the same public college I went to. For me, I really value my education. I don't know if I'm supposed to say this but in the world that we live in, if you are a good person and are motivated, it is not mandatory to get the highest form of education. You do, though, need some form of education in your life.
What is something you have had to overcome to get to where you are today?
Well… I never thought I was going to get a divorce. I was a stay at home mom until my kids were 4 and 1 and a half. To overcome that was really hard but I had a huge support system. I feel really confident in myself, even in the midst of a horrible situation. I never doubted the career path I chose. And when they say it takes a village to raise a child… it really does. That is one way I feel I connect with the Sunshine Method. They understand and want to provide that to these kids. My friends would go pick up my kids from school when I was working and my parents were extremely helpful. There are a lot of statistics out there regarding kids with divorced parents but my kids have gotten to the highest level.
What advice would you give to someone who wants to be a Sunshine Method tutor?
I would definitely say you have to be committed to it. This is not something where you say "oh, I'm gonna teach 2 kids on a Wednesday and then go to a friends party." No! You have to be committed and consistent. It is exactly how you guys profess, you're not just their tutor. You are also their mentor. These kids get attached to you. One student of mine recently told me how much she loved me and I was like "I love you too!" Most of them are coming from troubled backgrounds, you can visibly see it in the background. I would say you have to be serious about it.
What advice would you give to a child that is struggling?
Don't be so hard on yourself. You just have to slow down and calm down. It's very easy to get panicky and just throw your hands in the air but I remind them to slow down. Take it step by step. Most of the time, there is more than one way to get somewhere. Try looking at things from a different way.
Do you have any tips for keeping kids engaged while tutoring online?
I've felt so bad for my parents throughout the pandemic. I was an in-person tutor before this but once things went virtual, I felt like I really needed to step up my personality levels. You have to use lots of props. I use games all the time. I hold up books for them to read. I live at the teacher supply store. No kid just wants to sit and be talked to. Making things fun and giving them rewards for doing something good that keeps them engaged throughout the session.
What are your hopes for your students in the future?
Specifically for my Sunshine Kids, I just want them to feel confident in what they are doing. I want them to know that even though something may come up that they don't understand, they can get through it. I want them to be happy and secure.
---
Thank you Amy, we appreciate the work you do, and the impact you've had!



The Sunshine Method Staff